Mikrobac® Forte
Mikrobac® forte is an aldehyde-free, 5th Generation QAC, surface disinfectant cleaner concentrate for OT, ICU, ICCU. It is suitable for all water-resistant, wipeable objects, medical equipment & the surfaces of walls and floors. Its broad range of activity & neutral odor makes it ideal for use in odor­ sensitive or patient-related areas. It is bactericidal, fungicidal, tuberculocidal & virucidal.
Passes European Norms: EN 1040, EN 13727, EN 1276, EN 1275, EN 13624, EN 13697, EN 1650, EN 14476
Regular price

Rs. 729.00

Sale price

Rs. 510.00

Unit price

per
Know more
Download PDF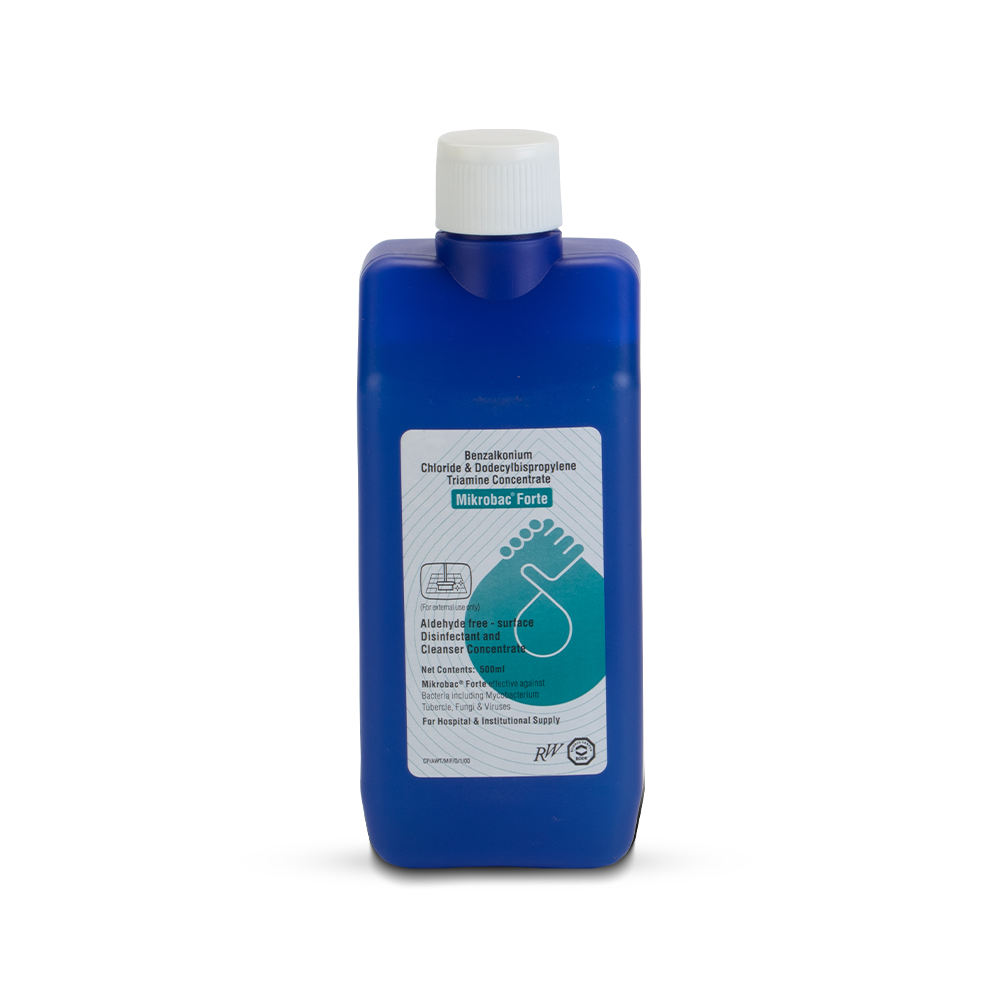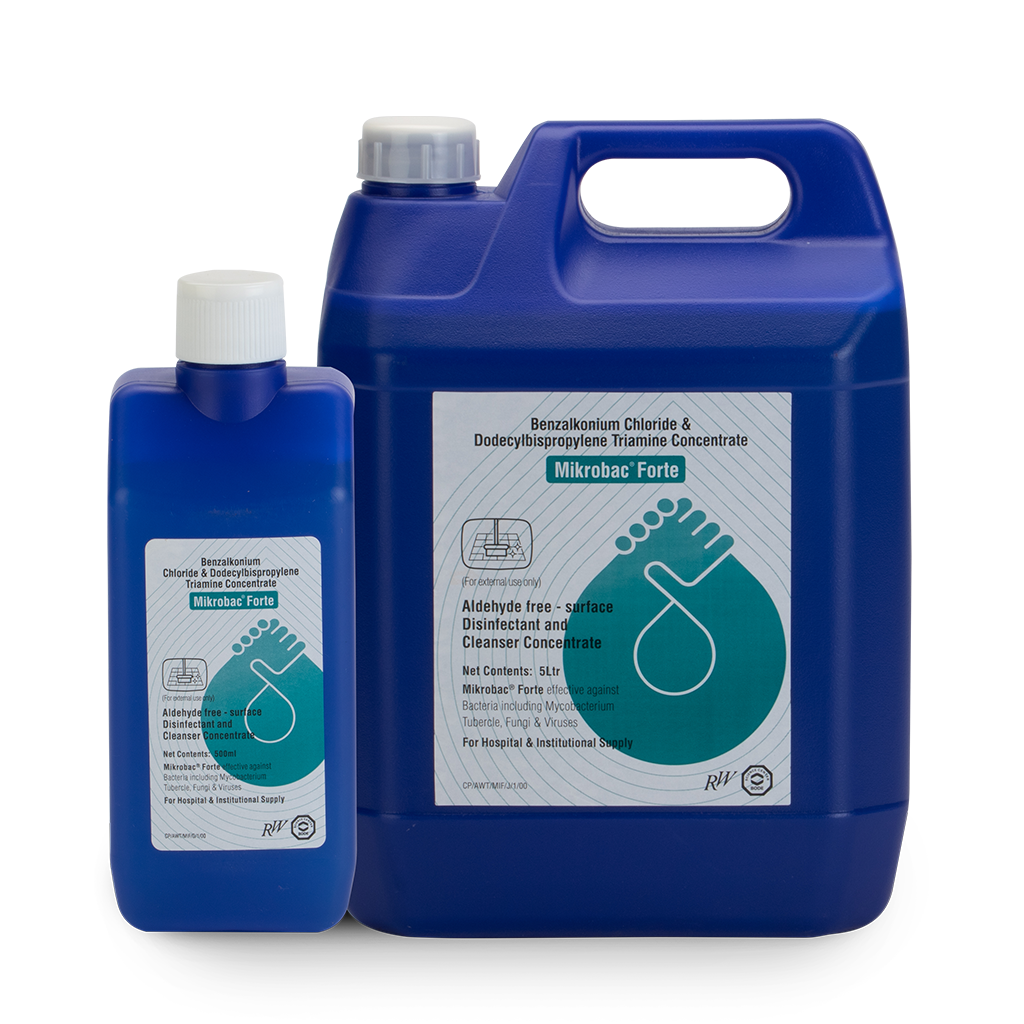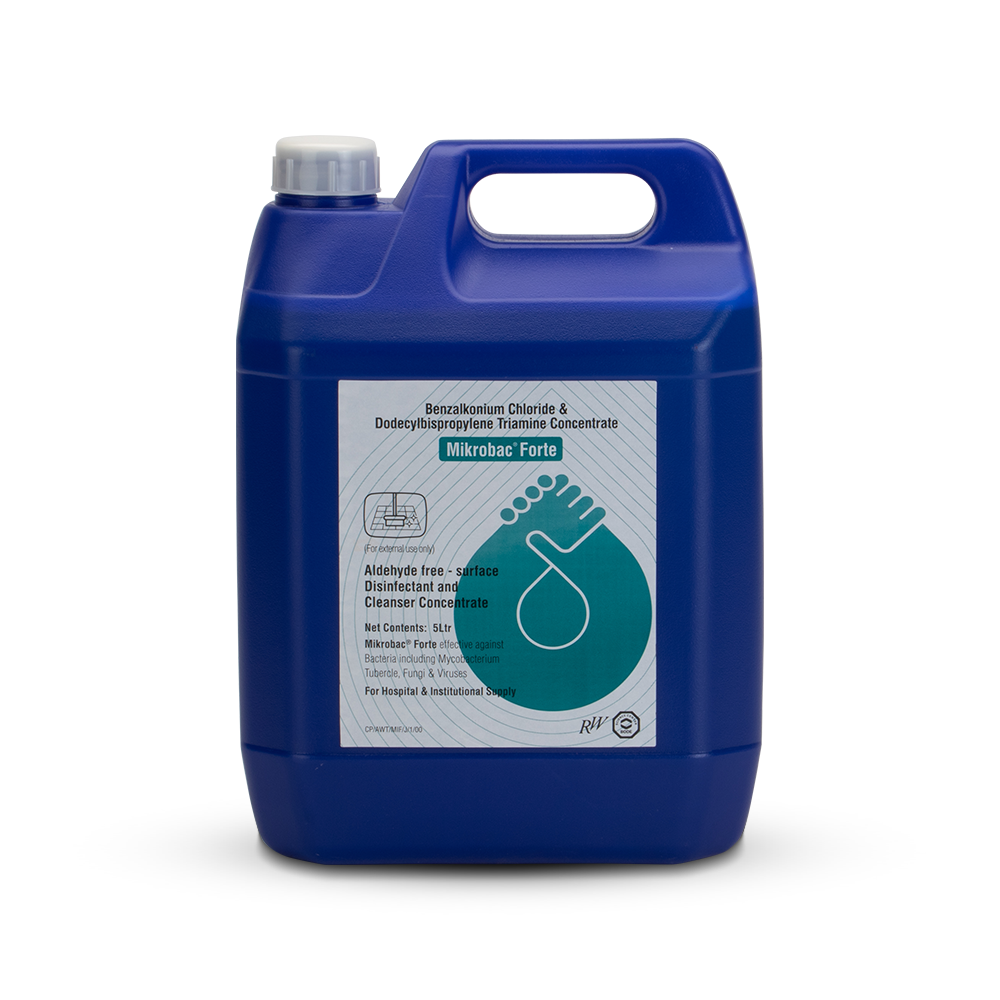 Frequently Asked Questions
1) Is Mikrobac® Forte a concentrate or ready-to-use product?
Mikrobac® Forte is supplied as a concentrate product, which has to be diluted with water (as Raman & Weil's dilution chart & risk area of the hospital) for surface & environmental disinfection.
2) Should I add a higher concentration of Mikrobac® Forte for better results?
For Mikrobac® Forte, refer and follow the dilution instructions given in Raman & Weil's product literature to get the best results.
3) What is the 5th generation QAC in Mikrobac® Forte?
QAC stands for Quaternary ammonium compounds. They are active agents that combine bactericidal and virucidal activity with powerful cleaning effects & good material tolerance.There are various generations of QAC, 5th generation is the advanced QAC (as per CDC) The fifth generation has excellent germicidal performance in harsh conditions and is safe for disinfection.
4) How should you use Mikrobac® Forte for surface mopping?
Based on the risk area of the hospital, follow the given RW's dilution chart of Mikrobac® Forte. Use a PPE kit for protection while disinfecting the surface.
Always clean the surface, and remove all visible dirt.
Add the concentrate using a measuring funnel/beaker into the bucket.
Now add the required tap water & dilute the solution.
Conduct surface mopping using the correct technique.
While doing this, ensure the fans/ACs are off, and windows are closed.
Follow the exposure time of 15 - 20 mins.
Allow the surface to air dry.
(Do not over or underuse the disinfectant)
5) Can you use Mikrobac® Forte for fogging?
No, Mikrobac® Forte cannot be used for fogging.