Linotox
Linotox, linen disinfectant concentrate that is effective against bacteria, fungi, virus including HBV and HIV. Linotox is 'chlorine-free' and therefore can be used on white & colored linen, foul smelling, infected & contaminated linen soiled with blood & sputum, reusable surgical dressing, blankets, gowns, floor mops etc. It has excellent moistening capacity, fabric protectors and can be used as a "pre soak & final rinse", it is used at 0.5% for regular linen and 1% for infected linen.
Regular price

Rs. 514.00

Sale price

Rs. 283.00

Unit price

per
Know more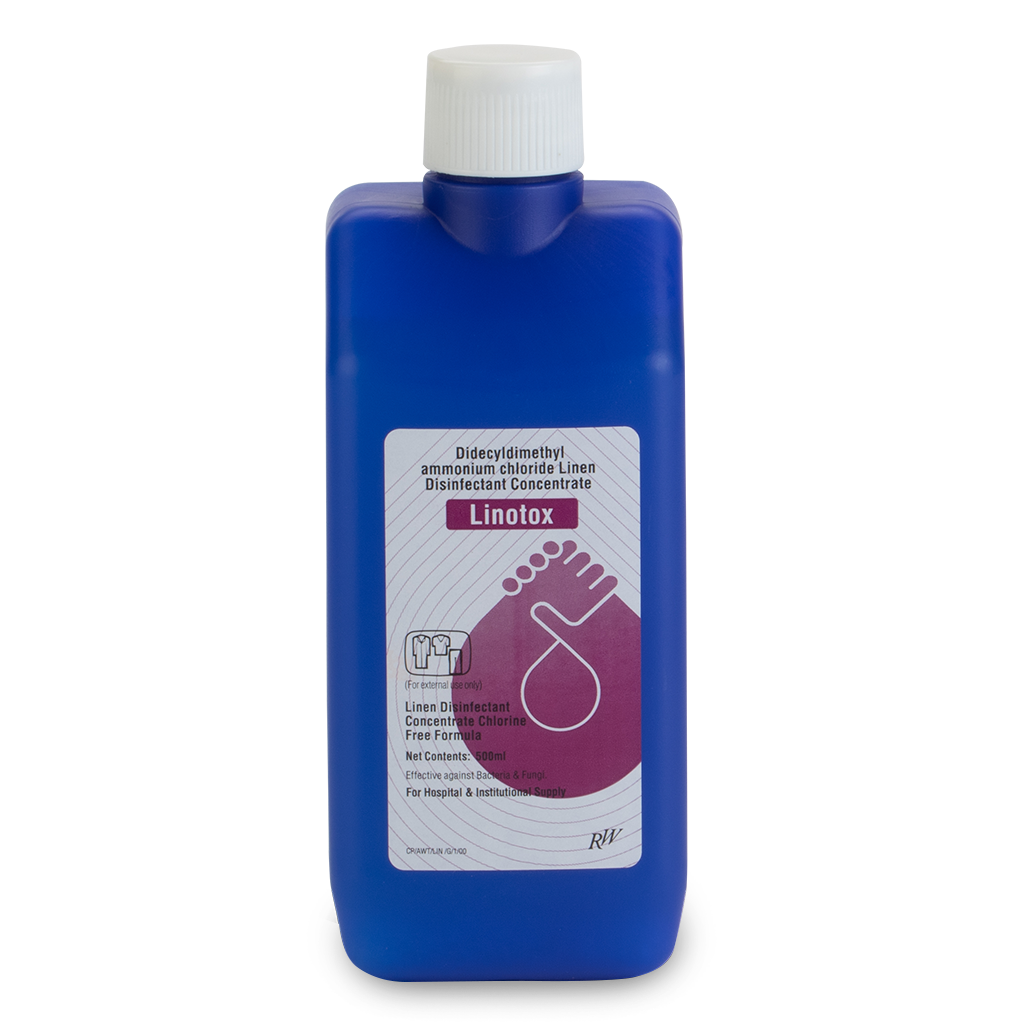 Frequently Asked Questions
1) What can you use Linotox for?
Linotox can be used for infected linen, foul smelling linen with excretion & urine/blood/sputum, reusable surgical dressings, blankets, gowns, undergarments, mops etc.
2) Can Linotox remove stains?
Yes, Linotox removes fresh stains, provides extra high cleaning power & ensures efficacy against all bacteria and fungi.
3) Can you use Linotox for coloured linen?
The chlorine-free formula of Linotox makes it excellent for white and coloured linen.
4)Does Linotox have a fragrance?
Yes, Linotox leaves behind fragrance and removes all foul odours.
5) Do you need to add any other cleaning agent/detergent with Linotox?
No, you do not require any other cleansing agent with Linotox.
6) How should you use Linotox?
Follow the instructions below to use Linotox for best results;
For infected linen - Squeeze out contaminants (blood/urine/stool etc.). Pre-soak in Linotox 1% solution (10 caps full or 100 ml in 10 litres of water) for 30 mins
For non-infected linen - This includes blankets, gowns, covers, masks etc. Pre-soak in 0.5% Linotox solution (5 caps full or 50 ml in 10 litres of water) for 30 minutes.