Wettask® wipes with Bacillol® 25
Surface wiping system with instant disinfection in 25 seconds. The compact, self-contained closed bucket provides hygienic wet wiping system that's safe, simple and reliable. These wipes are specially researched wipes, pre­ saturated with the surface disinfectant Bacillol® 25 which is time-tested, aldehyde-free, quick-acting, effective against bacteria, fungi, viruses incl. HIV, Rota, Herpes, etc. and dries without visible residue.
Passes European Norm: EN 1275,EN 13727, EN 13624, EN 14476.
Regular price

Rs. 1,386.00

Regular price

Rs. 1,980.00

Sale price

Rs. 1,386.00

Unit price

per
Know more
Download PDF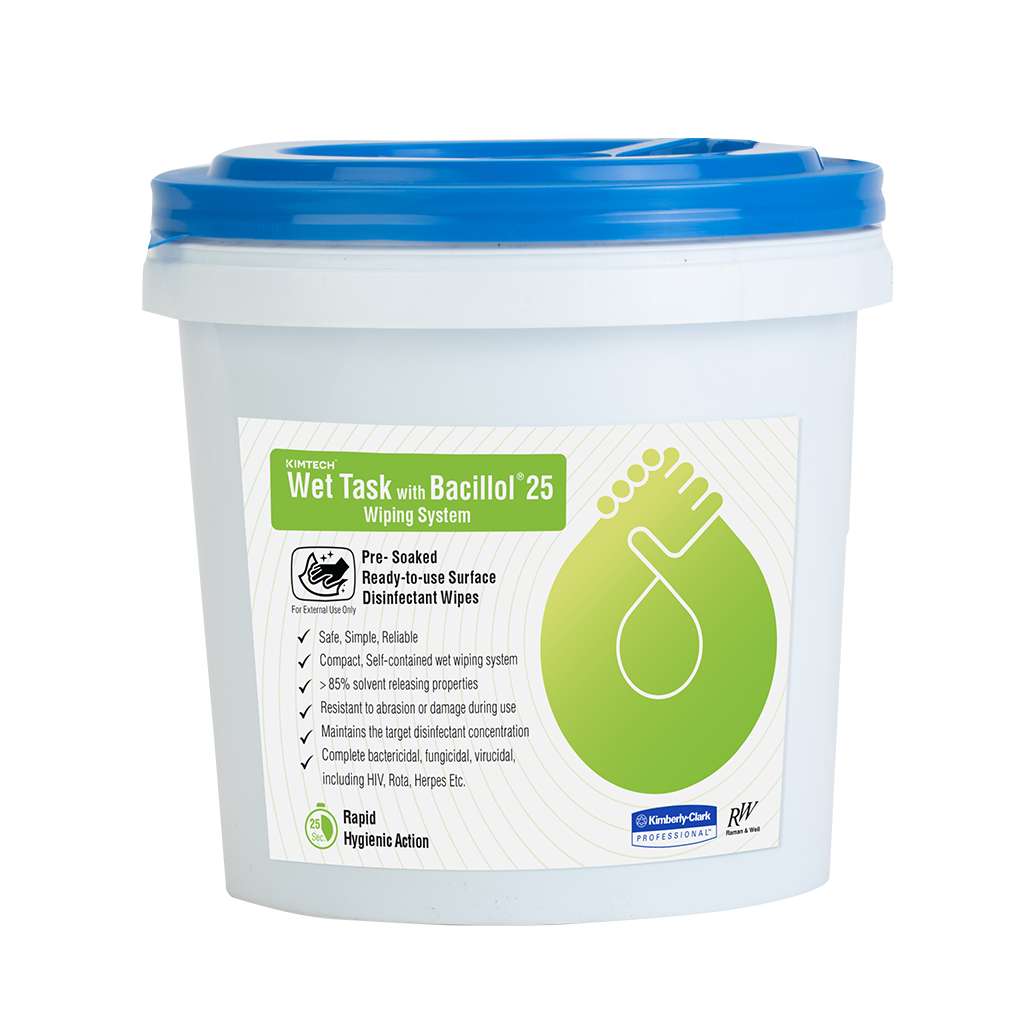 Frequently Asked Questions
1) Can Wettask® wipes with Bacillol® 25 be used as hand wipes?
No, it is recommended for use on surfaces (near patient areas & equipment) for convenient & instant disinfection in 25 seconds.
2) How are Wettask® wipes different from others?
Wettask® wipes are made from a special melt-blown polypropylene sheet, which is lint-free, tear-proof and releases up to 90% of active disinfectant on the surface, ensuring complete coverage & effective disinfection.
3) Why should you prefer Wettask® wipes over cotton rags for surface disinfection?
Cotton rags/reusable clothes can be ineffective and often become a breeding ground for pathogen transmission. As per the study, cotton rags show 53% lower release than Wettask®, whereas Bacillol® Wettask® shows up to 90% of release consistently. It gives special target disinfection without any wastage.
4) Which bacteria and viruses do Wettask® wipes kill?
Bacillol® 25 in Wettask® wipes effectively kills bacteria, fungi, and viruses like HIV, Rota, Herpes etc.
5) Which are the different sizes of Wettask® wipes available?
Wettask® wipes are available in the canister size-
90 pull-outs of Wettask® wipes pre-soaked in 750ml of Bacillol® 25. The size of each pull-out is 12" x 12.5".
6) How to use Wettask® wipes with Bacillol® 25 ?
Steps to follow while using Wettask® wipes with Bacillol® 25-

Clean the surface to be disinfected and remove any visible dirt.
Take one wipe at a time and start at the top of a vertical surface, wiping downwards. Start at one end and move slowly to the opposite end for a horizontal surface. Ensure that the hard surface is visibly wet and shiny.
Use multiple wipes if needed to cover larger areas.
Allow the surface to air-dry without wiping away the disinfectant.
Discard the used wipe according to BMW management guidelines. Do not flush the wipe.
Wash your hands after handling any disinfectant.